Product Information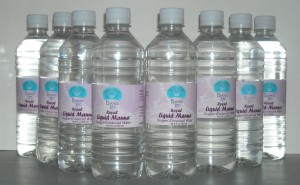 Royal Liquid Manna™ – 8 bottles Fred Neal Treated Spring water – Price Special Wholesale to Public – per bottle-

16.9 fl. oz. / 500 ml.

if you are considering drinking regular Liquid Manna, you may want to start with Royal Liquid Manna for an intense boost to your oxygen levels. (These increased oxygen levels in your body and can be measured by a $25 oxygen finger sensor sold on Amazon)

Drink one bottle of undiluted Royal Liquid Manna before starting with the regular Liquid Manna.

Royal Liquid Manna is extremely oxygenated, premium spring water created with a proprietary, energetic charging process.Liquid Manna is highly oxygenated, premium spring water created by a proprietary, energetic charging process. 1 bottle is 16.9 fl. oz. / 500 ml.
What is Liquid Manna?  Liquid Manna, an inspired creation of super-oxygenated spring water, delivers extraordinary levels of oxygen to the body for optimum health and vitality. The water itself before activating comes from the Mountain Valley Spring in Hot Springs, Arkansas, and the oxygen comes through the brilliant technology of Fred Neal. 

Upon receiving pallets of spring water from Arkansas, Fred infuses enormous levels of oxygen into each 500ml bottle of water. No other oxygen supplement approaches Liquid Manna in terms of delivered oxygen, and that may even include hyperbaric cambers. There are two levels of Liquid Manna — Regular Liquid Manna and Royal Liquid Manna.

Over 75 years ago, Nobel Prize winner Dr. Otto Warburg demonstrated that the underlying cause of all disease, and particularly cancer, is oxygen deficiency. He proved that no pathogen or cellular mutation can survive in an oxygen-rich environment within the body. Until now, delivery of adequate levels of oxygen was expensive and inconvenient or was otherwise not easily accessible. Because Fred presents a whole new oxygen paradigm to the world delivering unprecedented levels of oxygen, there was no existing instrumentation to test his products; thus he had to invent his own meters for testing and developed his own scale for reading oxygen content.
Ingredients:
Ingredients: Premium Spring Water
Royal Liquid Manna cheap special 8 bottle set

$336.00 $200.00

Product Code:

ROYTHHY56