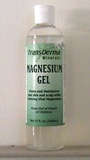 Magnesium, an alkaline earth metal, is the ninth most abundant element in the universe by mass. It constitutes about 2% of the Earth's crust by mass, and it is the third most abundant element dissolved in seawater.
Magnesium is the 11th most abundant element by mass in the human body; its ions are essential to all living cells. The free element (metal) is not found in nature. Once produced from magnesium salts, it is now mainly obtained by electrolysis of brine
According to Dr Carolyn Dean M.D., N.D. in her book "The Miracle of Magnesium"–Practically everyone. Particularly those with cramps, muscle/joint pain, migraine, fibromyalgia, high blood pressure, those with arthritis, osteoporosis, diabetes, restless legs syndrome, chronic fatigue, depression, anxiety, stress, heart disease, PMS, kidney stones, gout, insomnia, those who take calcium without magnesium, and those who exercise, particularly athletes. Why?
"Topical Magnesium Chloride immediately relieves muscle pain, activates cell energy (ATP) thus rejuvenating the body. Magnesium Chloride applied to the skin assists in cleaning the cells of excess acids, toxins & heavy metals; plus it helps to assimilate excess calcium which is often the cause of many diseases including heart disease, arthritis & osteoporosis. Our bodies do not produce magnesium, and it has all but gone from the soils and food chain." says Dr Mark Sircus.
With Transderma Magnesium Gel you receive energetically enhanced minerals in an easily absorbed form, directly through your skin.
The magnesium gel gives you a consistency that is easy to work with, with less drip than an oil or spray.
Magnesium chloride …Restore healthy mineral balances, improve cellular electrolytes, and improve your overall health. Using transdermal delivery (through the skin), you absorb much more of the minerals than you may through your digestive tract.
You can use this magnesium liquid as a rub, bath oil, or many other applications.
Product size: 16 ounce bottle.

This statement has not been evaluated by the Food and Drug Administration.
This product is not intended to diagnose, treat, cure, or prevent any disease.
To place order Click on the NEW Reiki Ranch Store button below
or call: (360) 748.4426 for further information.