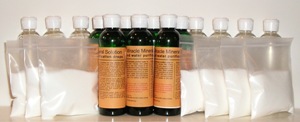 MMS = Much More Savings: The water purification Drops ( 28% sodium chlorite) protocol combines the water purification drops and a food based acid activator.  When the Citric acid activator is added to the Water Purification Drops — WPD — it makes Chlorine  Dioxide – a powerful aid to the immune system and it purifies water for travel and camping.  WPD now comes in a beautiful green oval bottle.
You will also receive mixing bottles for your activator, giving you everything you need to use your WPD protocol.
Seven bottles of water purification drops (WPD) 4 oz.
Seven packs of citric acid activator -full 1/4 lb. per premixed per bottle.
Seven clear Mixing bottles give you that 7-7-7 synergy!
NEW 50/50 Protocol – We are mixing your citric acid  for instance use as a 1:1 solution.
Sounds like a winning combination to me!
Seven WPD kits for 7 people at only $17.85 each (Reg price is $25 per kit) Total savings $50.
Shipped daily.

This statement has not been evaluated by the Food and Drug Administration.
This product is not intended to diagnose, treat, cure, or prevent any disease.
To place order Click on the colored NEW Reiki Ranch Store button below
or call: (360) 748.4426 for further information.